Letter from President Lech Wałęsa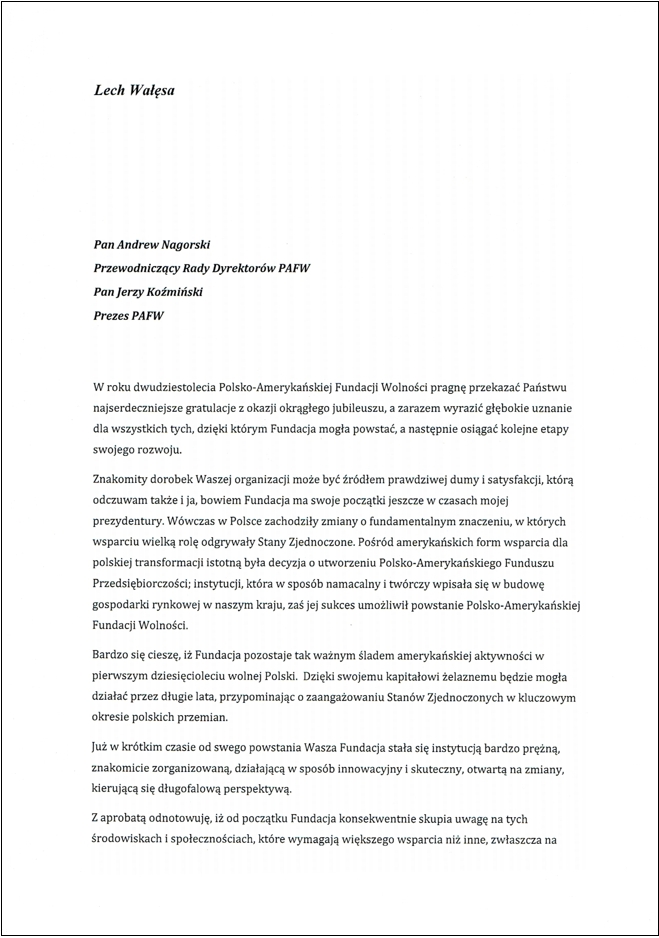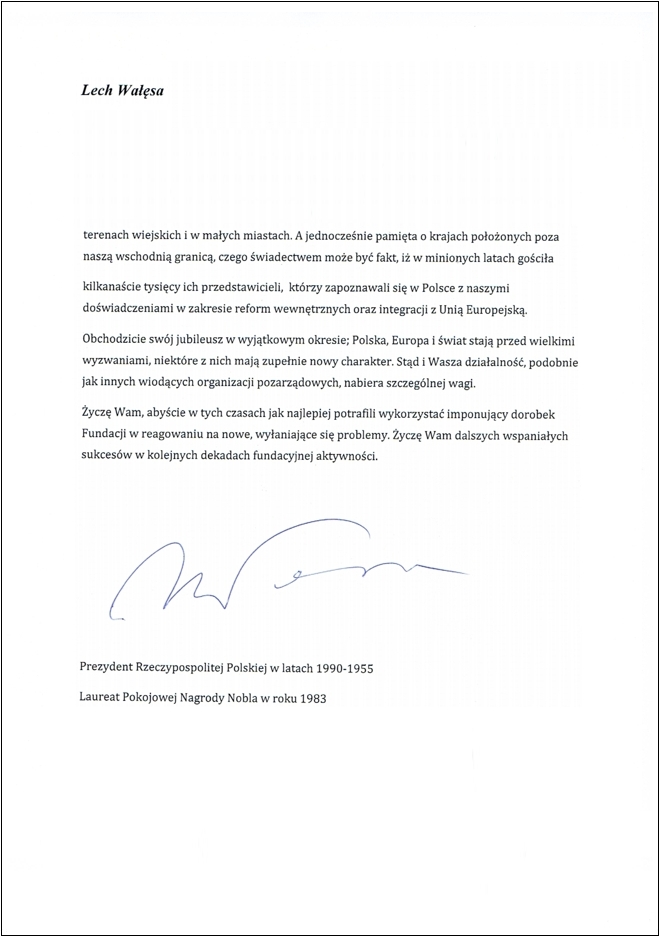 Translation:
Mr. Andrew Nagorski
Chairman of the PAFF Board of Directors
Mr. Jerzy Koźmiński
President of PAFF
In the year marking the twentieth anniversary of the Polish-American Freedom Foundation, I wish to offer my sincere congratulations on this jubilee and, at the same time, express profound respect for all those who contributed to the Foundation's establishment and propelled its development.
PAFF's notable achievements may rightly be a source of pride and satisfaction. These feelings I, myself, share as the Foundation had its deeper origin during my presidency. At that time, Poland bore witness to fundamental changes which were, to a large extent, supported by the United States of America. The decision to establish the Polish-American Enterprise Fund was a significant form of U.S. support for Poland's transformation. It led to the creation of an institution that influenced the development of Poland's market economy in a tangible and creative manner. Its success set the scene for the Polish-American Freedom Foundation.
I am very pleased that the Foundation continues to be an important legacy of the efforts made by the United States of America in the first decade of Poland's freedom. PAFF's endowment will fuel its activity for many years, a continuing reminder of the U.S. involvement during a critical time of Poland's transformation.
Just a few years after your Foundation's establishment, it has become a dynamic, very well-organized institution which operates in an innovative and effective way, is open to change and takes a long-term perspective.
I praise the fact that from the very outset the Foundation has consistently channeled its attention to those groups and communities that are in need of greater support, especially those in rural areas and small towns.
And during the same time PAFF has also remembered about the countries to the east of Poland's borders. The proof for this is the fact that in recent years several thousand of those countries' representatives have visited Poland to learn about its experience in internal reforms and EU integration.
Your jubilee falls during a unique period: Poland, Europe and the world are facing enormous challenges, some of them of an unknown nature. Hence your activity, like that of other leading non-governmental organizations, takes on special importance.
I wish you to be able to make the best possible use of PAFF's previous, impressive achievements in responding to the new emerging issues. I wish you further successes in the next decades of the Foundation's activity.
Lech Wałęsa
President of the Republic of Poland from 1990 to 1995
1983 Nobel Peace Prize Laureate
Letter from President Aleksander Kwaśniewski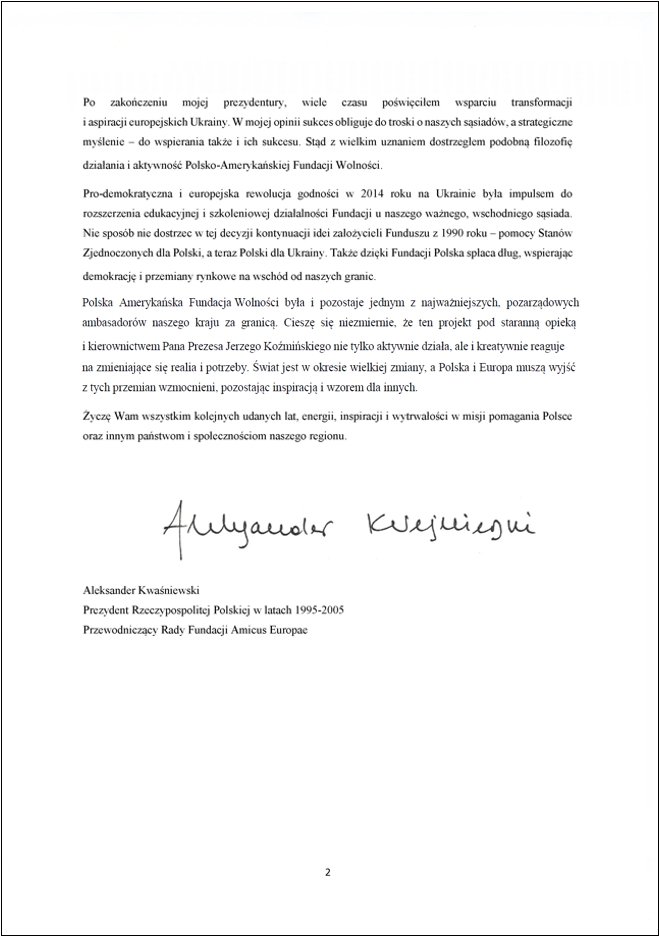 Translation:
On the occasion of the twentieth anniversary of the Polish-American Freedom Foundation, I extend my sincere congratulations to its Board of Directors, Management and Staff, and wish you many more years of continued success in advancing the development of Poland and Polish-American cooperation.
The Foundation, like the Polish-American Enterprise Fund earlier, was developing its activities during the time of major changes in Poland and Central and Eastern Europe which began with the historical breakthrough of 1989-1991. The Polish Round Table talks, whose thirtieth anniversary we celebrated last year, provided the starting point for these changes. The agreement reached by the authorities and the democratic opposition paved the way for a peaceful transition, which prompted similar change across the Eastern Bloc. After several years of the economic transformation, which had a painful social impact, Poland embarked upon the path of development and growth. The contributions of the Polish-American Enterprise Fund are significant in this respect. From 1990 the Enterprise Fund supported the economic initiative in Poland through providing know-how, good practices, as well as investment capital that was so much needed at the time.
That successful, initial transformation period was the very reason for Poland's overall success in sustaining continued economic growth (quarter-to-quarter) for 30 years, unique in modern Europe. Joining the European Union in 2004, during my presidential term of office, helped achieve that success. Poland seized that opportunity as well and rose up to join the group of the most important EU Member States, and became one of the EU's largest beneficiaries, not only financially.
The Polish-American Freedom Foundation launched its operations in 2000, coinciding with the commencement of my second term as the President of the Republic of Poland. PAFF adopted as its main objective leveling the playing field in education and supporting local community development. At the time, PAFF's founders accurately identified the existing (and future) problems and correctly recognized their importance for Poland's prospective prosperity in social and public activities. The Foundation's achievements of the last 20 years are impressive not only due to the amount of invested funds, but also in terms of their organizational and project-related impact. These accomplishments deserve the highest respect and sincere congratulations!
After my presidency I devoted considerable time to supporting the transformation and European aspirations of Ukraine. In my opinion, having success obligates one to care for one's neighbors. Strategic thinking also obligates one to help them to succeed. Thus, it was with great appreciation that I took note of the similar philosophy that underlies the Polish-American Freedom Foundation's activity and endeavors.
Ukraine's pro-democratic and pro-European 2014 Revolution of Dignity spurred the Foundation to extend the reach of its educational and training activities to our important Eastern neighbor. It is clear that this decision was a follow-up on the 1990 Enterprise Fund' founding principle: the U.S. support for Poland then, and Poland's support for Ukraine now. Poland is now repaying its debt by supporting democracies and market transformations beyond its eastern borders, and the Foundation significantly contributes to this.
The Polish-American Freedom Foundation continues to be one of Poland's most important non-governmental ambassadors abroad. I am delighted that this enterprise, under the leadership and good care of the Foundation's President Jerzy Koźmiński, is not only conducting its regular activities, but is also creatively responding to evolving realities and needs. The world has entered a period of great change. Poland and Europe must emerge stronger from these developments, and continue to serve as inspiration and models for others.
I wish you all many more successful years, as well as energy and determination to fulfill your mission of supporting Poland, and other countries and communities in our region.
Aleksander Kwaśniewski
President of the Republic of Poland from 1995 to 2005
Head of the Board of the Amicus Europae Foundation
Letter from President Bronisław Komorowski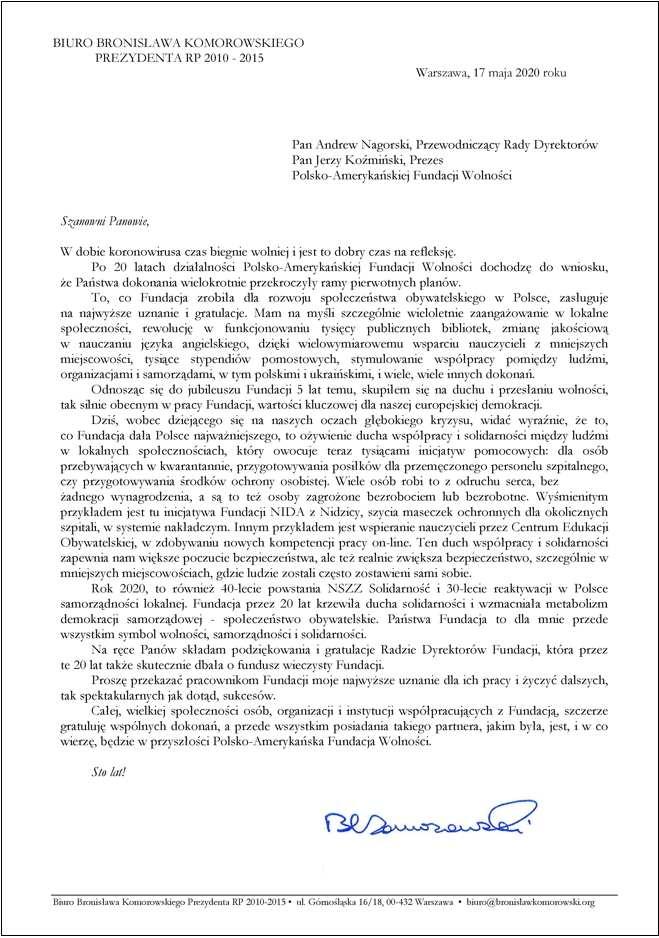 Translation:
Mr. Andrew Nagorski
Chairman of the Board of Directors
Mr. Jerzy Koźmiński
President
The Polish-American Freedom Foundation
Gentlemen,
Time slows down amid the coronavirus pandemic and offers a good opportunity for reflection.
A look back at the 20 years of the Polish-American Freedom Foundation's activity points me to the conclusion that you have exceeded your original targets many times over.
The Foundation's contribution to the development of Poland's civil society merits the highest respect and praise. In particular, what I have in mind are the many years of involvement with local communities, revolutionizing thousands of public libraries, bringing about qualitative change in English language teaching by delivering multi-faceted support to teachers from smaller towns and villages, awarding thousands of bridge scholarships, stimulating cooperation between people, organizations and local authorities, including Polish and Ukrainian ones, and so many more achievements.
When referring to the jubilee celebrated by the Foundation five years ago, I focused on the spirit and message of freedom, a value so strongly present in the Foundation's work and so vital for our European democracy.
Today, in the face of the deep crisis that is unfolding before our very eyes, it is clearly visible that the Foundation's greatest gift for Poland was rekindling the spirit of cooperation and solidarity in local communities, a gift which is now yielding thousands of aid initiatives: assisting people in quarantine, preparing meals for overworked hospital staff and producing personal protective equipment. Many people spontaneously follow their heart and work pro bono, even though some are at risk of unemployment or are already jobless. A notable example is the Nidzica-based NIDA Foundation which sews protective masks for nearby hospitals involving individuals working at their homes. Another example is the Center for Citizenship Education that supports teachers in acquiring new professional competencies online. This spirit of cooperation and solidarity gives us a greater sense of security, but also truly increases our safety, especially in smaller localities where people have largely been left to their own devices.
The year 2020 also marks the fortieth anniversary of establishing the NSZZ "Solidarity" Trade Union and the thirtieth anniversary of restoring Poland's local governance. For twenty years, the Foundation has promoted solidarity and strengthened local government, enhancing civil society. To me, your Foundation is primarily a symbol of freedom, self-governance, and solidarity.
Please accept my thanks and congratulations, and pass them on to the Foundation's Board of Directors, which has effectively taken care of your organization, including its endowment, for these past 20 years.
Please convey my highest respects to the PAFF team for their work and wish them further, equally spectacular successes.
I offer my sincere congratulations to the entire extensive community of people, organizations and institutions who cooperate with the Foundation on their joint accomplishments. And, let me congratulate them on having such a partner as the Polish-American Freedom Foundation was, is, and, I firmly believe will continue to be in the future.
Anniversary cheers!
Bronisław Komorowski
President of the Republic of Poland from 2010 to 2015
Letter from President William Jefferson Clinton